JACKSONVILLE'S INDOOR ROCK CLIMBING GYM
Whether you are an experienced climber or brand-new to The Edge Rock Gym, there's never been a better time to pay us a visit. It seriously might change your life, It has for many people!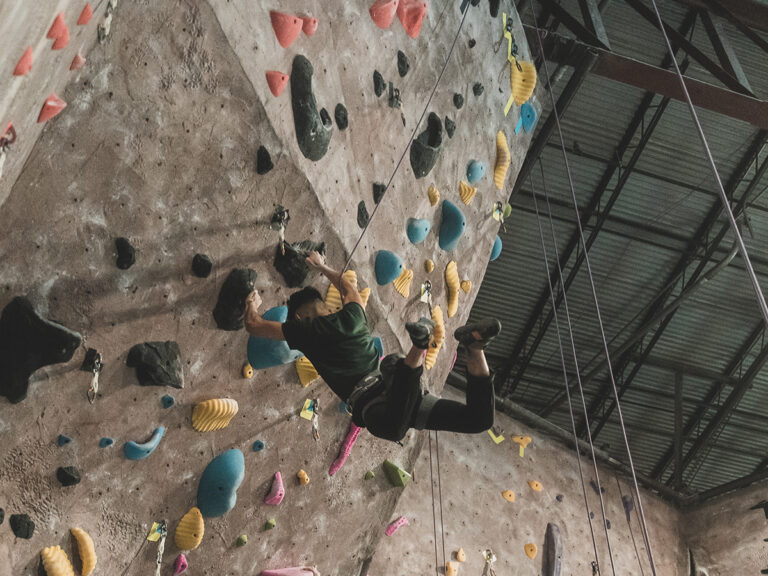 About The Edge Rock Gym
Here at The Edge, we believe that climbing isn't just an activity—it's a communal experience. It's not just about reaching up, it's reaching out to welcome everyone into this shared space where we leave the city behind and find that one boulder problem or route that just puts a smile on our faces (or the one that tortures us), to challenge ourselves physically + mentally, to support each other, and to forge friendships with people who are like us and people who are not.
Indoor Rock Climbing and More!
The Edge is a state of the art indoor rock climbing facility nested in the heart of Jacksonville, FL. 8,500 square feet of bouldering, rope/lead climbing training + a fitness facility.

Indoor Rock Climbing
The best full-body workout in your backyard! Climbing engages muscles you don't even know you have, as well as engaging you mentally. There is nothing like it, come climb with us!

Fitness & Weight Training
We offer a full-featured fitness gym and FREE classes for all of our members! Join today and get your sweat on!

Yoga Classes
There is a yoga class for everyone at The Edge! There is no better way to cool down after a climb, one of our yoga classes is guaranteed to fit your style and expertise. Stretch your body and mind at The Edge today!
Climbing is for everyone!
The Edge Rock Gym memberships get you unlimited access to all of our great amenities, including yoga, fitness, discounts from our pro shop, etc… Check it out today!.
Get monthly reminders
Stay in the loop, be sign up for our newsletter to recieve emails regarding specials and upcoming events.
Give the gift of climbing
Gift Cards are redeemable for passes and memberships, rental equipment, classes and programs, or retail purchases.
IMPORTANT SAFETY INFORMATION
Every book on the topic will tell you, climbing has inherent dangers; it is an adventure sport. If you are well trained and are using the correct equipment and techniques, your safety level is dramatically increased. At the EDGE Rock Gym, safety is our number one concern. If you have questions or concerns about your safety, we will be happy to talk to you and answer any questions.