First Time Climbers
We're here to help you along. No previous climbing experience is necessary.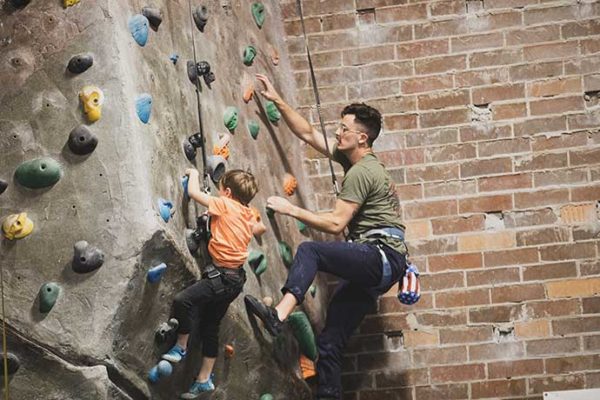 There's a First Time for Everything!
So, this is your first-time venturing into the world of indoor rock climbing? Don't worry we'll be gentle. It's not hard to learn to climb, but it's important that you learn from an experienced instructor all of the necessary information.
Can I just come and climb, or do I have to schedule an appointment and class?
We are walk-in friendly! Most people don't schedule classes for their first time. Instead, we have everyone watch a quick safety and orientation video, then show you how to get set up again in person. We have staff in the facility to help you if need be- but most folks are able to get going from here! One thing to remember though: Our staff does not help you clip in and out of our auto-belays. They're more similar to lifeguards, rather than personal attendants!
What do I need to get in order to climb?
All-day passes come with a harness rental. This is all you really need to climb at our facility, provided that you have closed-toed shoes and a current liability waiver on file. All other rentals are extra!
Do I need to wear your climbing shoes and use climbing chalk?
Climbing Shoes and Chalk are optional, extra rentals. If you would rather wear your sneakers- go for it! Our shoes help with added friction, but ultimately we want you to be comfortable! Chalk helps dry out sweaty hands and strips out the oils from your palms. That'll help you grip more easily, and keeps our holds free from feeling slick! It's ok if you don't want the extra rentals now- you can always change your mind and get them later if you don't want them right off the bat. Flip-flops, Sandals, and Vibram Five-fingers are strictly prohibited on the rock walls.
Do I need to fill our any paperwork before I come, or can I fill it out once I get there?
Waivers are required for everyone to enter the climbing area – Parents or Legal Guardians must sign for Minors. This can either be done ahead of time, online at our Waiver page, or in person at one of our three kiosks.
Signed Waiver Required
A Signed Waiver is Required For Everyone to Enter The Climbing Area. Parent / Guardian Must sign for Kids who are Under 18 and send a Photocopy of Drivers License if not accompanying their child.
Give the gift of climbing
Gift Cards are redeemable for passes and memberships, rental equipment, classes and programs, or retail purchases.